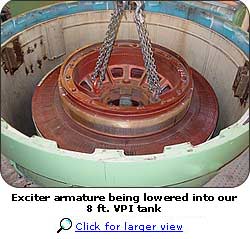 Vacuum Pressure Impregnation (VPI)
Our 4 separate VPI systems has set us apart from other motor repair facilities. To our knowledge, no other motor repair shop in the country has 4 VPI systems under one roof. We have made a considerable investment in these systems in an effort to offer our customers the best product for their particular application.

The following is a listing of our VPI systems and the product used in each.
System #1: 8 ft. VPI System with Dolphon Polyester Resin.
System #2: 5 ft. VPI System with Guardian Epoxy Resin.
System #3: 5 ft. VPI System with Traction/Mining VT Resin.
System #4: 3 ft. VPI System with Siemens approved VT Resin.

For those not familiar with the VPI process, here is a brief overview of how it works and why it is beneficial.
The VPI process most often occurs after the motor stator has been rewound. The stator is suspended in the tank and the lid closed. A vacuum is then pulled until the desired vacuum level is achieved, then held for a specified period of time.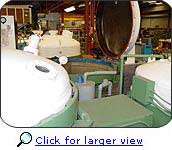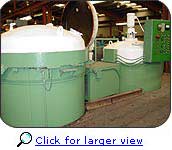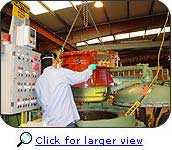 At this time the transfer valve is opened and the resin is transferred from the storage tank into the processing tank filling it until the stator windings are completely immersed. The transfer valve is then closed and the tank is held under vacuum for a short period of time. The tank is then pressurized and held again for a predetermined time which forces the resin through the multiple layers of wire and insulation (filling all voids).
Conventional varnishes are composed of 50% or more solvent, which evaporates during the bake cycle and allows for only a partial fill of these voids. dahl-beck electric offers four different 100% solventless resins. These products in conjunction with our VPI systems provide superior electrical insulation and a coil system that is impervious to moisture, contamination and corrosive chemicals. These products also provide improved cooling characteristics and a coil that is virtually vibration free.