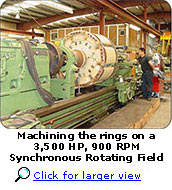 Machine Shop Services
We have been in the electric motor business for a very long time, but it turns out we've been in the machine shop business for equally as long (over 80 years). It has long been our contention that a true full-service motor repair facility must be as competent a machine shop as motor shop to truly stand out from the competition.
Many motor shops farm out their machine shop work, but we feel our customers benefit greatly by keeping all aspects of their repairs under one roof. We have found that not only does this significantly increase the control we have over the various repair processes, but also decreases the repair time and price.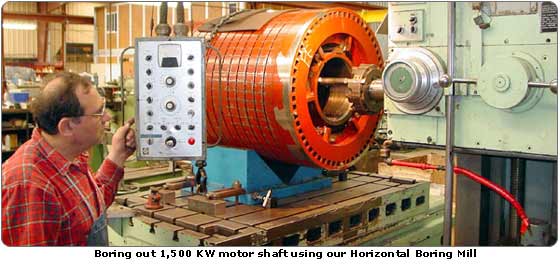 This is why we have gone to great lengths researching and acquiring the pieces of equipment that best fit our craft. So whether you need Balancing, Bending, Drilling, Grinding, Pressing, Reaming, Turning, Welding or a special part fabricated, we are the machine shop you can count on to do the job right.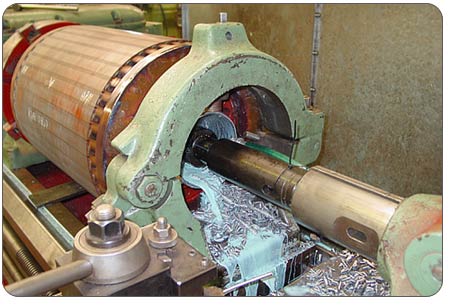 The materials we routinely work with are Steel, Stainless Steel, Aluminum, Brass, Copper and insulating materials such as Micarta, G-9 & G-10. We specialize in the repairs of Shafts, Journals and Housings most commonly associated with Motors, Pumps and Gearboxes. We constantly stride for superior attention to detail and we're proud of the extremely tight tolerances our machinists are able to achieve.

View a "slideshow" of a shaft being repaired
We have Lathes with up to 60 inches of swing and 17 feet between centers, Vertical Turret Lathes, Horizontal Boring Mills, Vertical Mills, Horizontal & Vertical Presses and all of the tooling & knowledge necessary to do your job quickly and efficiently.